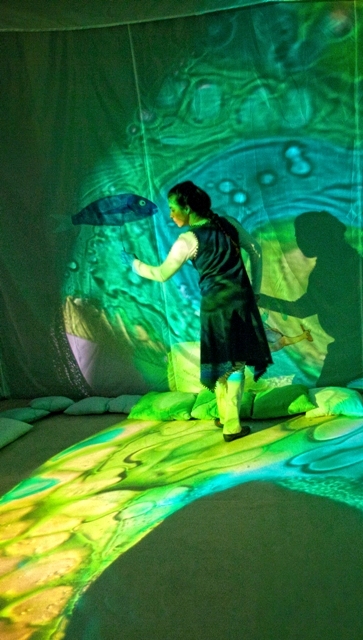 Analía Sisamón –

"La Canela" Teatro de Títeres
Apdo. de Correos nº 122
23680 Alcalá La Real
Jaén (España)
E-mail: info@lacanelatiteres.com
Tel. (34) 670 85 55 14
In January 2003, the company "La Canela Puppet Theatre" was born created by Analia Sisamón, with the premiere of the show Mil Grullas (Thousand Cranes). The line of work La Canela is to deepen the relationship between: the visual arts, theater actors, puppets and dance, using the most appropriate resources for each discipline, depending on the need for expression and united to constant research and construction of its own language.
Analía Analia says: "My training until the years 1990 – 1991 seemed to have two parallel paths: the visual arts and theater. Finishing National Ceramics School in Buenos Aires, came the need for my sculptures (large maks) were movement … had to change material! ……. Thereafter I saw a way in which the visual arts and theater are, enrich, enhance ….. So it comes to puppet, visual and objects theatre: wonderful synthesis of multiple disciplines."
His latest show, entitled "Pepo, where are you going?" Is a Argentina-Spain-Mexico coproduction, released in November 201. At a crossroads, two travelers are prevented each step. In this confrontation, which is heating up, and because of that, some of his belongings are mixed and the mixture of everyday objects suddenly emerges a doll who calls Pepo. Pepo has a puzzle to solve, and until he can not do it, all three characters will remain there, arrested in the middle of nowhere. To reset the way, the travelers have no choice but to help in his search irreverent Pepo, which will encounter other characters that will clarify some things, and why not, also to themselves.