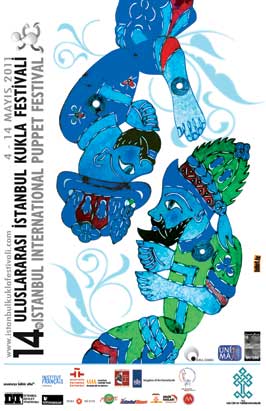 Istanbul International Puppet Festival
– Director: Cengiz Özek
– Assistant and Producer: Stefan Carelius
– Addres: Şehit Muhtar Mah. Taksim Akarcası Sok. No:4 Beyoğlu – İSTANBUL
– Tel: +90 (212) 243 47 04 – Fax+Tel: +90 (212) 243 16 02
– Email: info@kuklaistanbul.com
– Website Festival: http://www.kuklaistanbul.org
– Website Cengiz Özek:
http://cengizozekenglish.blogspot.com/
Cengiz Özek Shadow Theatre is founded by Cengiz Özek in 1986. The aim of the company is to produce puppet and shadow theatre performances.
The first production was 'Dünyayı Sev Yeşili Koru – Love the Earth, Protect the Green', a play which was based on the shamanistic sources of Karagöz.
His last creation, a black theatre project, 'Benim Küçük Yıldızım – My Little Star' has reached the audience and had very big success in Istanbul.
Having a vast repertoire of classical Karagöz plays, Cengiz Özek Shadow Theatre produced its first modern interpretation of Karagoz with 'Çöp Canavarı – Garbage Monster' in 1998.
Same year the first Istanbul International Puppet Festival is organised by Cengiz Özek. It was the first attempt in its context with performers and companies from all over the world.
The festival will be organised for 12th time this year with plays, exhibitions and work-shops on puppet and shadow thatre.
Cengiz Özek Shadow Theatre has been invited to many coutries since its foundation and performed more than 500 shows as well as workshops and exhibitions.