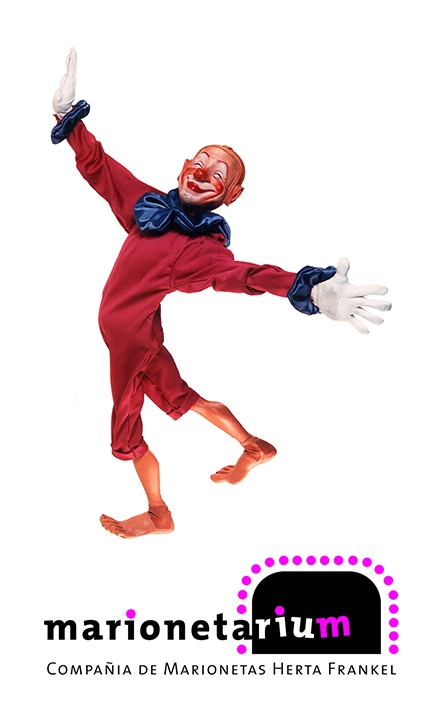 – Directors:
Pilar Gálvez: (+34 649238377)
Fernando Gómez: (+34 609874608)
– Avda. Parl.lel, 91
– 08004 Barcelona
– marionetarium@gmail.com
– Tel fijo: 0034 93 4234687
– Channel youtube
– Facebook
Pilar Galvez and Fernando Gómez, promoters and directors of the company, form team with Herta Frankel in 1985. Heirs to the artistic legacy of Herta Frankel and the Viennese, they preserve, exhibit and promote the most representative collection of puppets of the last sixty years.

Alfter several exhibitions (Lleida in 1995, Barcelona in 1995 at The Viennese Hall -50,000 visitors., Seville in 1996 at the Expo Casino), in July 1996 they set up the Herta Frankel's Animated Puppet Exhibition, coproduced by the Parc d'Atraccions Tibidabo in Barcelona, thus giving rise to the Marionetarium project. The company generates a constant increase of the team of puppeteers. The structure of Marionetarium allows for great variety and flexibility in the adaptation of shows to be performed at galas, openings and festivals: Inaugural Concert For the Lorca Year at Manuel de Falla Auditorium, Granada, 1997; Madrid Auditorium, 1998; Atraccions Montalegre, Center for Contemporary Culture Barcelona (CCCB); Teatre Grec, 2003, Centenario Theater at Hospitalet Catholic Center, 2004; Baby Dior presentation, 2004; Max Awards Gala, 2004; Wooden Clowns premiere at the Clown Festival in Cornellà, 2006; Mercè 2008-2009; Flamenco Festival of Ciutat Vella, 2009; Brasilia's International Puppet Festival 2011.

Thanks to the Herta Frankel Puppet Company, after over fifteen years at Tibidabo, more than 15,000 performances and over 1,500,000 spectators, Marionetarium is now the only puppet theatre in Spain with handling bridges, first used in Words for Julius in 2006. Marionetarium has been conceived as a theater-museum-workshop-archive and training center. It is a playful-educational proposal that appeals to audiences of all ages.