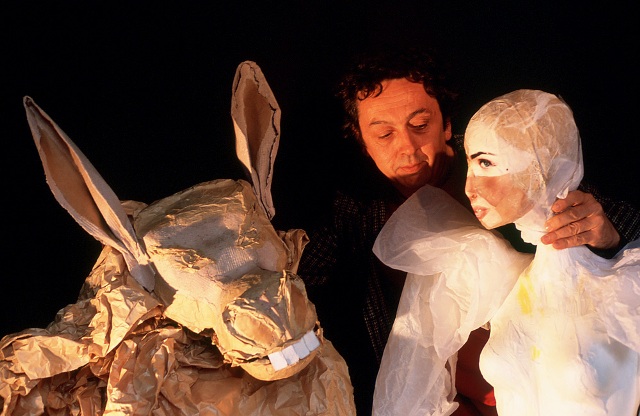 Director: Santi Arnal
Address: C/ Annibal, 28, baixos, 08004 Barcelona (Spain)
www.perpoc.com
http://perpoc.blogspot.com/
perpoc@perpoc.com
https://www.facebook.com/perpoc.marionet
Santi Arnal founded  Per Poc in 1989 around a desire to develop puppet theatre. This interest in popularizing the world of puppets has led to different collaborative work with the plastic arts, cinema, music and the audiovisual world.
In its approach to music, the Per Poc company has produce different works: The soldier's tale, by Igor Stravinsky; The little Sweep, by Benjamin Britten; A Midsummer Night's Dream, by Felix Mendelssohn; Romeo and Juliet, by Sergei Prokofiev; The Nutcracker, by P.I. Tchaicovsky and Peter and the Wolf, by Sergei Prokofiev. Its shows has been presented on famous stages such as The Great Theatre of Liceu in Barcelone, The Royal Theatre Opera House in Madrid, the Wiener Konzerthaus, the National Musical Theatre of Moscow, the Palau de la Música Catalana in Barcelona, the Castell de Peralada International Music Festival, the Concert Hall in Taipei, the Barcelona Grec Festival and the Temporada Alta Festival.
The company has also worked with more than 30 symphony orchestras including the ORF Radio-Symphonieorchester Wien, the Euskadi Symphony Orchestra, the Symphony Orchestra of Principado de Asturias, the Taipei Symphony Orchestra, the Wienner Kammerphilarmonie, the Tenerife Symphony Orchestra, the Bilbao Symphony Orchestra, the National Symphony Orchestra of Panamá, the Extremadura Orchestra, the Royal Philharmonic Orchestra of Galicia, the Vallès Symphony Orchestra, the Philharmonic Orchestra of Malaga or the Philarmonic Orchestra of Bogotá.
In cinema, Per Poc has worked with the director Terry Gilliam on the film The Man Who Killed Don Quixote. Part of this work can be seen in the documentary Lost in La Mancha.