"Podrán cortar todas las flores, pero no podrán detener la primavera"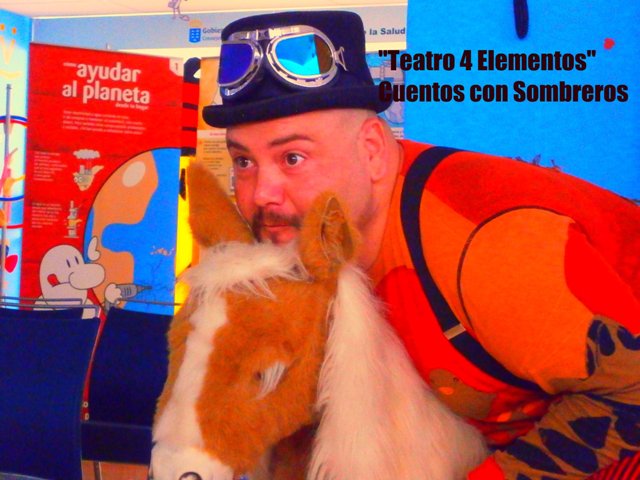 Teatro 4 Elementos,
Tenerife, España.
Members: Juan Pablo Poveda, Mar Margarida, y Alfredo Muzaber
Telefonos 0034-822018727— 649139428
4 Elements Theatre is a professional theater company puppets and objects. The group is constantly researching new ways of making art with the use of objects and puppets on stage, enhancing the image of the actor as important figure in each set. Using both table puppets, glove, mixed media, shadow theater, puppetry objects and body scenery. Physical theater, puppets and scenery construction.
Her productions are characterized by poetic, with a strong message, seeking to raise awareness among the public, the group addresses objecte and puppet theater productions both for adult and children audiences.
The company were born in America and currently based in Tenerife, serving in various theaters, cultural centers and independent rooms and participates in international festivals, both in America and Europe.
Currently performs Theatre and storytelling on Hospital for children in the program Mafre Smiles Foundation Guanarteme.

Along with his director, actors are professional performing arts and poets, doing a great job giving workshops in different educational institutions and cultural centers

.

Workshops:
-Taller de títeres ecológicos Eco Títeres (Destinados a niños y adolescentes)
-Taller de teatro y títeres. (Niñ@s y Adultos)
-Taller de sombras chinescas (destinados a Niñ@s y Adultos)
-Taller de animación a la lectura y cuenta cuentos (Destinado a Niñ@s)
-Taller de construcción y manipulación de títeres de mesa (Destinado a Niñ@s y Adultos)
-Taller de clown (Destinado a Niñ@s y Adultos)
-Teatro Terapia (Destinado a adultos y adolescentes)
– El Tango que Nunca Canto Gardel, (Títeres para adultos)
– El Generalito, Prohibido prohibir, (Títeres para toda las edades)
– El Quinto Elemento (caja-teatrino para 2 espectadores)
– Abuelo Cuéntame un Cuento (títeres, proyecciones de video, narración)
– Cuentos con Sombreros (narración oral)
– El Día que Sudi conoció a Norton (clown, teatro, títeres)
– Del Otro lado del Rió ( Teatro de sombras)
– La Brujita Lechuguita (Teatro y Cuenta-cuentos)
– S.O.S. Salvemos el planeta ( Teatro de Sombras Infantiles)
– Te, Cuento? Espectáculo de Cuenta-cuentos para Adultos.
Asociados a la "Red internacional de Cuenta-cuentos", Miembro de la Asociación "Acto 7" De profesionales del Teatro Objetual en Canarias, Al circuito de Teatro y Danza de las Islas Canarias,