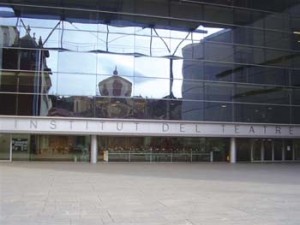 Institut del Teatre de Barcelona.
Museum, Theatre School and Research and documentation.
Plaça Margarida Xirgu, S/N  08004 Barcelona. Tel: +34 932 273 900.
At the Institut del Teatre, we care about the initial and continued training of our students. We offer broad, diversified study programmes. If you would like to be, are or have been a student at the Theatre School, you will find your place with us to continue learning and working towards your great passion: performance. You can consult the plans of studies of the differents schools:
School of Drama (Escola Superior d'Art Dramàtic)
Directing and Dramaturgy  –  Scenography –  Acting
Dance Conservatory (Conservatori Superior de Dansa)
Dance Pedagogy  –  Choreography and Dance Performance Techniques
School of Performing Arts Technology (Escola Superior de les Arts de l'Espectacle)
Sound Engineering  –  Lighting Technology   –  Stage Machinery
Secondary School for the Arts / Dance Conservatory (EESA / CPD)
Classical Dance  –  Contemporary Dance   – Spanish Dance
Research and documentation If you are interested in teaching and research in the performing arts or if you are curious to find out about the history of this discipline, the Theatre School provides all the information you need related with the stage arts through the school's own Research Centre and Museum of the Stage Arts. At the same time, we offer you the chance to train in this discipline through the PhD in Performing Arts of the Theatre School. Come and visit the Museum and consult the most complete bibliographic catalogue of the performing arts in Catalonia. Find out about the PhD and get to know the school's research groups.
The Ovidi Montllor Theatre
Theater-Estudi