PERISCOPE – Social projects with puppets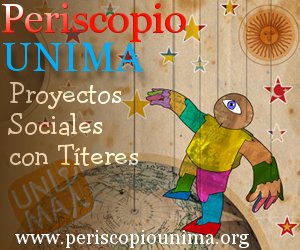 The website: www.periscopiounima.org , initiative of the Unima's Cultural Exchange Commission, provides a new means of communication for those who wish to disseminate experiences and projects that connect puppetry with the promotion of social values and human rights.
UNIMA is an NGO that unites people around the world who contribute to the development of the art of puppetry, and through it, promote human values, such as peace and mutual understanding (see the preamble outlining our articles of association)
The Commission of Cultural Exchange, though this website, seeks to: Publicise the initiatives that are being performed with puppetry for the promotion of social values. Attract the interest of collaborators and sponsors who would like to contribute to the development of these projects. Unite UNIMA with other organizations and entities interested in establishing links and collaborating in this field.
We would be grateful for any help in broadcasting this initiative and for suggestions that would make this website a more useful and attractive means of communication.