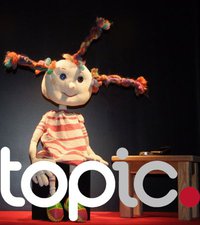 TOPIC, Tolosa Puppets International Center.
– Titirijai, Puppet Festival organised by TOPIC and taking place in Tolosa (Basque Country) every november
– Directors: Idoya Otegui and Miguel Arretxe.
– Plaza de Euskal Herria,1 – 20400 Tolosa
– tel: +34 943 65 04 14. – titirijai@cittolosa.com
Promotion and outreach
TOPIC won't have a permanent company. TOPIC constantly seeks new programs to be home to works and companies from different countries, different techniques and artistic conceptions. This way, TOPIC aims at increasing the variety of performances and giving opportunities to more artists.
TOPIC will reach agreements with companies interested in using equipped rooms to perform productions for a limited period of time. This possibility will be made available to companies from all over the world who thus, will have access to highly-equipped facilities to create, stage and rehearse their new productions.
As part of the outreach process, this project envisages the possibility of coproduction agreements that boost creation, mise en scène and the spreading of contemporary drama, particularly from young authors, in order to make up for  the lack of good texts which forces puppeteers to resort to classic fairy tales and do cover versions of them again and again. Sometimes, this is not fair to the spectator or the original text.
Likewise, TOPIC expects to take maximum advantage of Internet resources in order to spread, via video conference, the centre's news and programs among the general public, teacher groups, leisure activities specialists and artists.
Measures to encourage the presence of puppet theatre in the media are also planned in order to attract the critics' interest.
As a comprehensive puppet centre focused on children, TOPIC organized an 18-week school campaign that will bring Basque children in touch with puppetry by attending a good performance, chatting with the artists, visiting the museum, making a simple puppet and visiting Tolosa's old quarter. This school campaign will be combined with weekend performances for families, as well as performances aimed at an adult audience.
Data and research
This new centre will have a consultation room, with six computer platforms from which to access the media, video and the image collections as well as the library. This data centre will be available not only to researchers, but to anyone interested in the world of puppetry.
The TOPIC data collection contains 2,000 videos and DVDs of puppet shows from all over the world; 1,800 posters, 75,000 photographs, printed data about more than 2,500 companies and a 1,300 volume library specializing in this art form. All this data, except for materials not available to the public due to copyright legislation, is being digitalized and will be available through this website thanks to the collaboration and support of the local government, the Diputación Foral de Gipuzkoa.
TOPIC also plans to work in cooperation with universities to promote research scholarships and to encourage academic interest in the many aspects of this art form among young graduates with degrees in the fields of culture, art and drama.
Training and continued formation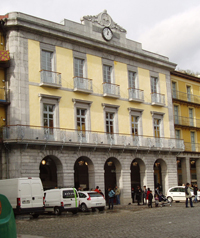 This section is not intended to be officially didactic, but it will provide artists, who are mainly self-taught, with tools to help them improve the quality of their productions or to boost the use of puppetry in areas such as education, health and leisure.
Puppeteer refresher courses, master classes or workshops will contemplate the relationship between puppet theatre and the plastic arts, music, voice, media, theatre technology, etc., taking into account the main aspects of theatre: drama, stage direction or interpretation. In this aspect, as in many others related to puppetry, TOPIC is open to proposals and to collaboration with UNIMA (the International Puppetry Organization).
Another training level will attempt to provide teachers, leisure specialists, socio-cultural instructors, etc. with the necessary knowledge and tools to learn to use the art of puppetry in their respective activities.
There will also be another training level addressed to children over eight, in order to teach them how to play in groups, how to create their own plays, make their own puppets and learn to enjoy theatre.
Heritage conservation
The museum will place emphasis on national and local puppet heritage restoration and conservation. There is a nagging worry regarding the importance of protecting great artists' plays. It is the duty of everyone to prevent plays from being lost or plundered, as has happened in the past.
TOPIC will contribute to puppet heritage conservation by purchasing, donating or through bailment contracts of active or deceased authors' plays, which are at risk of being lost. Since 2001, when UNESCO called for nominations to the List of Intangible Cultural Heritage in Need of Urgent Safeguarding, many puppetry disciplines were given this award, and TOPIC committed itself to supporting such protection.
The TOPIC museum will be divided into two main areas:
A permanent exhibition, of an educational and didactic nature. The puppet will be introduced through its history, its location, its cultural stamp, and its different techniques and conceptions. An exhibition which is presented as an interactive puppet interpretation centre.  Architect Dani Freixas is the person in charge of the museography and design.
Specialized temporary monographic exhibitions, either from our own collections or from loans or rentals, will occupy this space. Today, TOPIC either owns or has acquired on loan more than a thousand puppets from five continents belonging to different techniques.