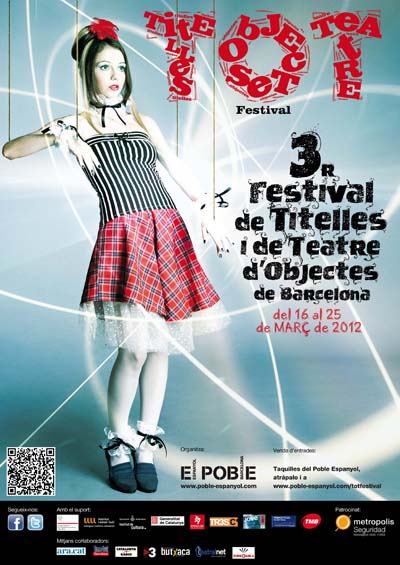 Poble Espanyol. Organiza: 
TOT: Festival de Titelles i de Teatre d'Objectes de Barcelona.
– From 16th to 25th March 2012.
– Av. de Francesc Ferrer i Guàrdia, 13 08038 Barcelona.
– Tel: +34 935 08 63 00. totfestival@poble-espanyol.com
For years, the Poble Espanyol de Barcelona has organised puppet sessions on Saturdays and Sundays for family audiences and during  week days for school students. An emblematic place as few others are in Barcelona, ​​its peculiarity is that in addition to its theaters it has fabulous outdoor spaces, some big and some others small and nice, which are ideal to perform small street performances.
Three years ago, the Poble Espanyol started to organise a Festival of Puppets which was called TOT Festival (Theatre, Objects, Puppetry), under the artistic direction of Jacques Trudeau. In 2012 it has reached its third edition with an important programme focused on the new puppet languages. In his welcoming letter, Jacques Trudeau says:
"We invite all of you to the TOT Festival, the party where you will discover clowns, dancers, artisans and filmmakers. You will feel transported to an imaginary world created by puppeteers, actors and the object theater. This year, the programme is focused on the discovery of the new puppetry languages, just those that mark the evolution and the present situation of this art. You could say that these new forms of expression will take all of us to an open, creative and borderless heaven.
As every year, we celebrate "The International Puppet Day". This year, Joan Baixas will read the international message of UNIMA.
We are working with the utmost enthusiasm, since the TOT Festival has no other purpose than providing the people of Barcelona with hours of cultural happiness for the entire family. I invite you to see the best artists and the best shows of puppetry, I invite you to TOT. "
Festival publicity CLIP
More information about Poble Espanyol
In the historic context of the Primo de Rivera dictatorship and the 1929 International Exhibition, it was decided to build a village in Montjuïc that would become a synthesis of Spanish architecture and a craft showcase for Spain. It was supposed to be demolished at the end of the event, but finally it was preserved after the impact it made and because of the many voices who spoke out against its destruction. It was planned as a group of frames drawn from Spanish popular architecture which would be incorporated in a kind of collage. The builders of the site, the architects Ramon Reventós and Francesc Folguera and the artists Xavier Nogués and Miquel Utrillo, tried to make a village where buildings representing the different regions of Spain would be reproduced.
The four professionals made several trips around Spain to collect pictorial material. Along the way, they made hundreds of photographs, notes and drawings that made it possible to choose the elements best suited to the idea they had to put into effect. In total, these "tourists" visited 1,600 towns and villages.
The intention was not to bring together a collection of masterpieces of Spanish architecture in the open-air museum. Instead, it was a matter of building a site that was a synthesis of monumental Spain. It was a way of having Spain in Catalonia.