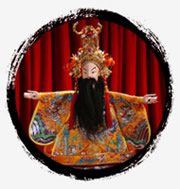 From 27th May to 3rd June 2012, the twenty-first UNIMA Congress will be held in the city of Chengdu, in Southwest China's Sichuan Province, at the same time as a World Puppetry Festival.
The International Union of Puppetry, UNIMA, founded in Prague in 1929, is a non-governmental organisation affiliated to Unesco, represented in virtually every country in the world. Its headquarters is currently in the French town of Charleville-Mézières.
During the Congress, as well as the election of a new board, and other issues concerning the organization, there will be constant meetings between puppeteers from around the world, panel discussions, presentations and premieres of shows, especially from Asia. It will be a unique opportunity to take the pulse of the new reality emerging for puppetry in these countries on the rise today.
Puppetring will travel to Chengdu to give an account, from our perspective, of what is going on in the world of puppetry. Meanwhile, as we warm up, we will try to pay special attention to all that is happening in the Far East.