I've now participated in four big UNIMA assemblies: the Tolosa 2006 and Dordrecht 2010 Councils, and the Perth 2008 and Chengdu 2012 Congresses.  This time, as I experienced it, the atmosphere was tinged with the exceptionally strong efforts made by the organisers to perform as hosts. Which is to say that, for me, the hosting itself took a very performative role (in all senses). On several occasions during the week I felt I was having to play a predestined part in a well-rehearsed spectacle, but not necessarily as a human actor but rather as a manipulated object – or even a prop. But for whom?
Raised in a country where everybody is expected to take care of her/himself, (starting in kindergarten, which, according to the latest research, at its worst causes deep feelings of insecurity and, later in adulthood, inadequate skills for running one's life), losing my individualism in Chengdu was a new and strong experience. We Finns could certainly learn some flexibility in our demand for the right to only look after one's own business and, consequently, the "right" not to take care of the others' well-being. But if I get wake-up calls in spite my request to use my own alarm clock I can't help thinking that it's not me whose needs are taken care of, (I might need some more sleep), but someone else's.
In Chengdu, among other elections, we had to choose the location for the next UNIMA Congress. There were two candidates: Yekaterinburg and Tolosa-Saint Sebastian.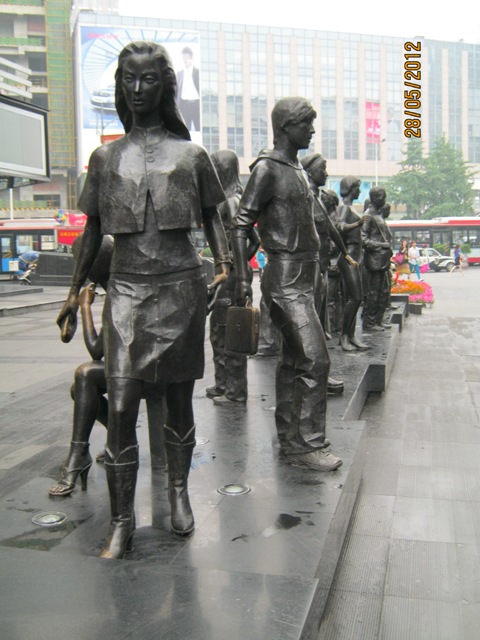 Well, UNIMA's World Congress has never been organised in Spain, which was a slight surprise for me (sorry for my ignorance!), knowing that a big and active national centre exists in Spain – or rather, as I learned, a union of associations – and long puppet theatre traditions. On the other hand, the Congress was held in Moscow in 1976, so some of the councillors might have made their decision on this basis when voting for the next host. To be accurate, Russia has never hosted the congress either, since that event took place in the Soviet Union, but echoes of the former superpower may still have influenced the vote, surrounded by the grandiose arrangements in Chengdu. Perhaps the participants of the congress wanted something completely different next time? On the other hand, Yekaterinburg was willing to put energy and resources into a new attempt after failure in Perth, which I really appreciated.  Voting was not easy, since both candidates very much appealed to me for different reasons. I do like the idea of giving this opportunity to the Basque area, however, representing as it does a minority culture in Spain and still (or thus?) being able to produce such a clear and high level presentation in Chengdu.