Felix Mirbt was born in 1931 in Breslau, Germany, currently Poland. He got to Quebec in the decade of 1950s and died in Sutton, near to Montréal, in 2002. His extensive artistic production evolved from a classical type of marionettes to a sort of abstract theatre —a powerful career recognized all over. Now, in the 10th anniversary of his death, the company Théâtre de la Pire Espèce and Marcelle Hudon opened ManiganSes – Festival International des Art de la Marionnette à Saguenay, in Quebec, Canada, with a wide look on their master's work.
The show 'Die Reise, ou les visages variables de Felix Mirbt' is a staging of some of Mirbt's highlights —or a documentary play, as Pire Espèce members define it. Having created a big number of puppets, masks and texts, Mirbt left his inheritance to his wife, but ceded it all to continue performing to his colleagues and Marcelle Hudon, Olivier Ducas and Francis Monty.
'Die Reise' ('The Journey') follows the way Mirbt and his father rode by bike from Germany to Austria, crossing Prague and other cities, getting closer and closer to the raging end of World War II. Taking this biographical fact, the storyline jumps continuously back and forth in time to the present, where Olivier Ducas, Francis Monty and Marcelle Hudon offer a panoramic view over Felix Mirbt's work. The premiere of the show was in 2011, after an intense research on all the documents of Mirbt's legacy.
Although the show can be considered a master piece by itself, the exhibition 'I perform, I build / L'atelier, la scène – Memoires et marionettes de Maître Mirbt' was a necessary complement to it. It is not very big, divided in two sections. In the first one, there are the elements that witness the builder's work, some of his pieces and thoughts: "The more I work on theatre, the more I get interested in its totemic figures, first with puppets and lately with masks. Gods, Devils and all you can find in between is of my concern." Or simply: "My marionettes have always black and thick strings, as if I make them invisible, people will try to understand how they move instead of trying to understand their story."
On the second part of the room, there is his work on scene, the creation of the space and the movement. Between all pieces, there is one very little and very important: his father's red notebook, where he wrote down the details of their tour from theatre to theatre. "We do not know exactly what he learned in Germany during his childhood", says Julie Vallée-Léger, the person in charge and designer of the exhibition. "What we know is how his first marionettes are, how he tried different techniques as he knew more artists and builders and approached different characters. This was very characteristic in Felix Mirbt: he built one type of puppet according to its inner story."
Some characters of his main plays are distributed along the tour, showing the evolution of his aesthetics. Absolutely everything about puppets was of his concern: there are glove puppets, pupi, marionette, table puppets, shadows, traditional characters and avant-garde masks… And at the entrance, Woyzek's head and one hand welcome visitors. 'Woyzek' was possibly the most famous of Felix Mirbt's plays, and it is also present in the play 'Die Reise'.
The red notebook
The notes taken by Mirbt's father in his tiny red notebook are used by the company Théâtre de la Pire Espèce and Marcelle Hudon to set the plot of their documentary play. It is indeed a remarkable show: an almost 2 hour long summary of a master of contemporary theatre's life, putting his work back to stage and creating something new.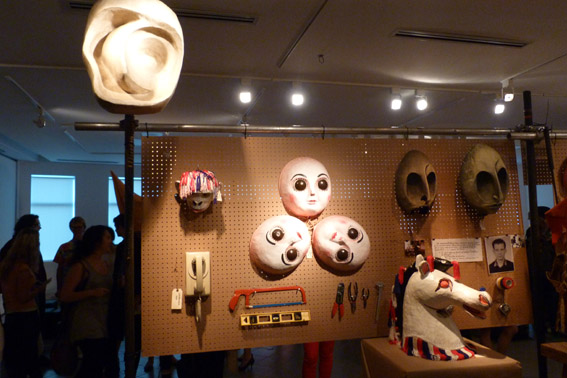 As Felix Mirbt's pieces are made to be manipulated with different techniques, in 'Die Reise' the three puppeteers perform a real demonstration of acting ability. And they get to return them their real value. Music starts and some photos are projected in a screen. After that, the show has a dynamic and fun beginning, a sort of parade leaded by a Judy's head that Marcelle Hudon puts in front of his own face, half mask half puppet. Punch and Judy will follow the whole journey of Felix Mirbt, being figures or shadows, as what they really are: the presence of a capricious destiny. As the show goes on, and the war gets rougher, it slows down and gets darker. Then they appear on stage his later works.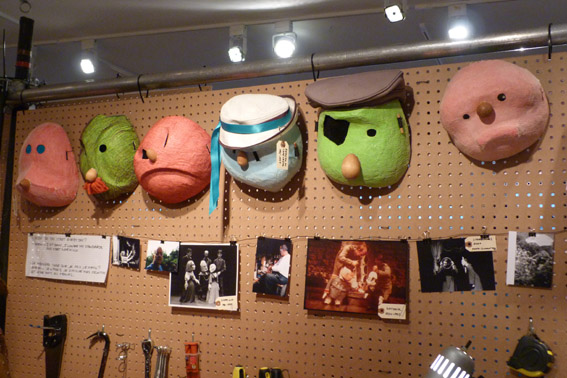 After Woyzek plays his solo manipulated by the three puppeteers, abstract forms start taking the space. It is quite impressive to see the effects Felix Mirbt got with geometric figures and heads or face masks sort of snail-shell-shaped. The dissociation between the different parts of the body and the movement tell the audience a silent message through uncommon perception. Making emotions explode was not one of Mirbt's purposes, but some parts of the show, like the one of Woyzek, have a dense concentration of them.
The musicians, Nicolas Letarte, Marie-Soleil Bélanger and Simon Lapointe, are also remarkable. They play live on the stage and make part of the show. They perform worthy scenes as the musical interpretation of poker cards. Overall, it is a show full of great images that does not let consume itself during its performing. You have to take it with you at home after the end.
and Marcelle Hudon