As Gary Friedman reports in Puppetrynews, an spectacular King Kong opened in Melbourne this week. It's a visual treat for anyone vaguely interested in musicals and puppetry.  The gigantic puppet that everyone's talking about is six metres tall with a well-muscled body, an enormous head and a bunch of 'King's men' manipulating the monster – from his his hands and feet to his fully animatronic head, King Kong is awe-inspiring.
Australian puppeteers Steve Coupe and Jacob Williams, together with puppetry director, Peter Wilson did a fabulous job in breathing life into the great monster so convincingly that Kong is now alive and well and living in Melbourne.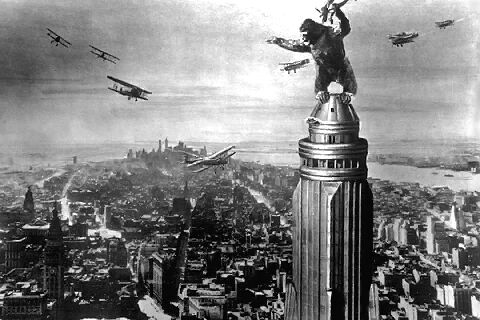 "Kids, we're taking this show to Broadway!" is the final line of the first act of Australia's most talked about musical, when Carl Denham promises to bring the great ape from the remote Skull Island to a New York City audience. This is certainly a must see for anyone vaguely interested in puppetry and if Carl Denham's words come true, then audiences in New York City will soon get their chance to see Kong too. For more info, click here!