I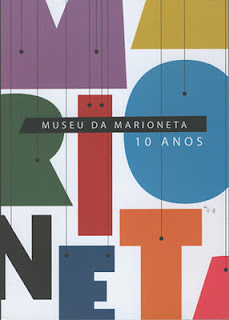 t does not happen every day that a museum dedicated to the art of puppetry turns ten. To celebrate this, the director of the Museu da Marionetain Lisbon, Maria Jose Machado Santos, presented a beautiful book bringing together texts, especially witnesses and many images, that gives an idea of ​​the activity been carried out in this time, virtually covering all of the art of puppets.
As the director says in her Introduction, the Museum grew from its initial collection of 410 puppets and masks to around 2,000 pieces today, not counting the altarpieces, tools and documents that constitute the Museum's collection. This evolution can be found by visiting its rooms and breathing the fervent work environment in its premises.
The educational activities of the Museum deserve a separate chapter. In the book, they are profusely illustrated —workshops, guided tours and shows in the chapel hall of the Convent des Bernardes. A big number of images of its major exhibitions is inluded, as witness of its hard and continuous work, and naturally many performances too, with spectacular photographs of José Frade and Susana Neves.
The Museu da Marioneta in Lisbon has a long history dating back to the time the company Bonecos de Sao Lorenzo opened a local at Alfama neighborhood to expose their own collection of puppets —those created by the sculptor and puppeteer Helena Vaz and others from foreigner countries gathered during their travels. It seems that museum was a beloved place, but it was too small and it became necessary to find a new location. Then the Council intervened and gave the old Convent des Bernardes, very degraded at that time. Restored and cleaned up, it became the new museum space in 2001. Under the leadership of María José Machado Santos, the Museum has expanded its collection and is now an mandatory reference to the world of puppetry in the Iberian Peninsula. In addition to its showrooms, it has a cozy chapel-theatre and a wonderful cloister inside. The Museum shines especially in May, during the FIMFA (el Festival Internacional de Marionetas e Formas Animadas) , when all spaces are occupied by puppet shows from all around the world.