Creating theatre for young audiences: light and movement

A collaboration between Maria Matos Teatro Municipal and A Tarumba/CAMa
– Projecto Funicular – Lisboa Portugal. Training Project on Puppetry and Animated Forms
DIRECTED BY: Francesca Sorgato and Flop Lefebvre (FR)
10th to 14th April 2011 (from Tuesday to Saturday)
Teatro Maria Matos – Sala de Ensaios
FOR Puppeteers, actors, teachers, students and visual artists
NUMBER OF PARTICIPANTS: 12
WORKSHOP TIMES: 10h às 13h e 14h30 às 17h30
10am – 1pm and 2.30pm to 5.30pm
LANGUAGE: French and English
FEE: 75€
DEADLINE FOR APPLICATIONS: 25 de Março 25th March
INSCRIPTIONS:
The inscription is made by enclosing a biographical note and a motivation letter. You can send all the documentation by e-mail to rafaelagoncalves@egeac.pt . For more informations: ruteribeiro@tarumba.org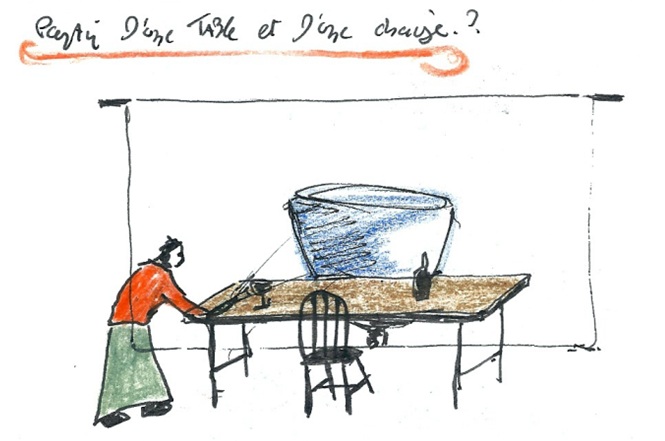 There are two ways of spreading light: to be the candle or the mirror that reflects it.
Edith Warthon
A workshop devoted to the theme of creating theatre for young audiences, on light and movement.
We invited Francesca Sorgato and Flop Lefebvre to share with the participants their knowledge and experience in artistic creation and set design of performing arts for the youngest. A workshop for creators of various artistic fields coordinated by two artists with a very unique universe.
Francesca Sorgato will work on the body/movement and explore daily an element (wood, fire, earth, metal, water) in terms of energy (with forms inspired by animals, for example, attached to these elements) and Flop will work with group the light and materials, according to these elements.
BIO
Francesca Sorgato develops her work mixing poetry, music, songs and objects. She directed with Isabelle Kassler the Cie Phenomene Tsé-Tsé, producing various shows, like CouCou. In the Cie Lili Désastres she continues to develop her project for younger audiences and created the shows Gribouille and Many (little) things, presented in the last edition of FIMFA LX – International Festival of Puppetry and Animated Forms. Currently she continues to work specifically for children (from 9 months), and uses in her creative process the Qi Gong techniques, which allowed her to link movement to theatrical work.
Flop Lefebvre who works in Groupe Zur, also collaborates with other projects, like Cie Skappa or Cie Lili Désastres. He develops an artistic project and several researches where it is known his fascination with light, shadow and moving image that led him to put in his installations the reflection fragility.
His particular universe could be seen in 2011 edition of FIMFA, in Cie Lili Désastres show or in FIMFA Lx7, in the exhibition Heureuses Lueurs – Allusions d'Optiques. Small and ingenious mechanical constructions that mysteriously came to life.
Teatro Maria Matos
Av. Frei Miguel Contreiras, 52
1700-213 Lisboa
Geral – 218 438 800
http://www.teatromariamatos.pt/
CAMa – Centro de Artes da Marioneta A Tarumba
FIMFA Lx – Festival Internacional de Marionetas e Formas Animadas Tel.+Fax: +351 212 427 621
Convento das Bernardas – R. da Esperança, 152
1200-660 Lisboa Portugal
info@tarumba.org http://www.tarumba.org/ http://www.fimfalx.blogspot.com/ http://www.atarumba-teatrodemarionetas.blogspot.com/