Among the countless innovative theatre events anyone can see daily in different London venues, there are some also attentive on contemporary puppets and object theatre. The Battersea Arts Center (BAC) is one of this places where te staff is open to any proposal that can attract young or ingenious audiences to get involved with the Center. So a play like 'A very Old Man with Enormous Wings', by the half-centuried company Little Angel Theatre, in co-production with Kneehigh, has a signifficant role in this policy.
Little Angel Theatre was born in 1961 as a troupe under the leadership of South African master John Wright. Their work have always been directed to children and over the years they have developed a huge activity on training. John Wright died in 1991 but the company continued its work by opening more and more to new collaborations with musicians, writers, directors, designers and performers, mostly encouraged by Christopher Leith, who was a former student at The Little Angel Theatre. Currently, the company is directed by Peter Glanville.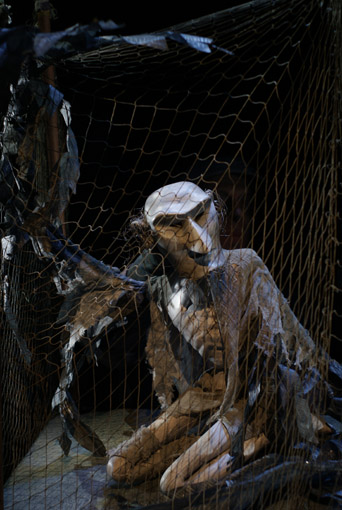 The play 'A very Old Man with Enormous Wings' tells the story of an old angel that falls in the yard of a poor family's house. The relation between that family and their neighbours, the priest and the near sea and how they become rich and decadent because of the presence of the angel. The magic and the surprising universe of the Colombian writer Gabriel Garcia Marquez is certainly a good hook for an Arts Center that aims to attract young audiences.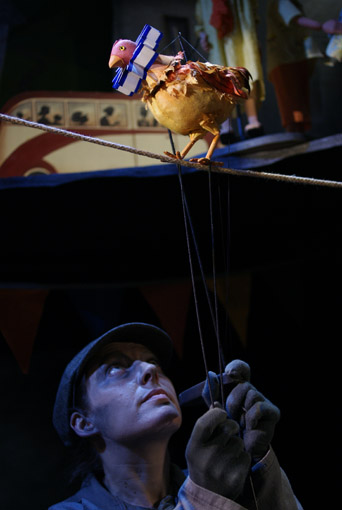 Many of the projects developed at the BAC are in collaboration with young people, not only actors or producers but also by the help given by attendants to develop new ideas and pieces. The regular program is, then, intended to feed this collaborative work. The staff of the BAC thinks the alternative methods they developed to get hold of the area to be used by young people will ensure the site's future as an innovative arts center, and this is their goal.
'A very Old Man with Enormous Wings' can be seen at the BAC only until January 19. But let's be aware of the upcoming events: from Valentine's Day, 'The Odyssey', by Paper Cinema.