Video is an art form with a special relationship to time.  Works are often short in comparison to feature films, documentaries or television series, but comparable in length to music videos or advertisements.  However, they are not driven by the same imperatives of narrative or commercial messages and different dynamics are possible. Video art gives room to observation or contemplation; and Time itself may become part of the subject matter.  For me, this is an important aspect of what makes many video art works engaging and memorable. (This is the second of two articles on LOOP Fair 2014. See Part I here)
Words and voice
"It-you-and-me" is a video by the duo Pau Pac Azul.  The artists say "A neutral object is charged with significance due to its purpose and the act of observing it: the powerful action of watching gives meaning."  Dance beat music accompanies the action, as rubber gloves are donned and together, finding a common rhythm, the two pairs of hands mount a cardboard box.  In this piece, in contrast to  so many others, voice is crucial.  The text is condensed, poetic, while the voice does not sound entirely normal: sleepy, half-drugged, mechanically slowed?  Unless the pair mounting the box find a common rhythm, the task won't be possible.  So, "Rhythm as the great unifier. / Lack of rhythm, its consequences./ Changes. /Influence. // Isn't that what life, love and power is all about? We are just asking."  In this piece, in contrast to the four videos mentioned in Part 1 of this article, the object does not have intrinsic value, but it allows the articulation of relationship and linguistic communication by its role; thus, value accrues to it.  The woman's voice continues: "Spring is here and dead things and new born things are all mixed up. / It's sunny and cold and I want to give you the world. / My dead things linger like rags from my heart, I ask you to rip them and you throw them away. / The more I give you, the more I get. / Life, love and power / I never thought time could make me, instinctively, know how to wrap up your thoughts."
ItYouAndMe (Subt. en castellano) from paupac azul on Vimeo.
Thoughts, experience, writing, and how far they can be relied on, are the subject of  "i : letter" by Ji-Sun Lee.  The word 'letter' has two common meanings, and the pun is played to the full.  Meanings and objects are unstable; even the letters on the page are not fixed, but lift and float away. "I wake up at the time we call neither night nor morning, at the moment that I may have lost or gained."  The letters, animated objects, take on an independent life; but, as the artist says: "letters get together finally reveal a letter, the intimate writing, a monologue."  The monologue, it may be supposed, that we are witness to.  In the artist's dossier, Ji-Sun Lee talks eloquently about her media: "Dans la durée déterminée, de nombreux frames (images) se passent succesivement en révélant une ou plusieurs histoire(s) et en constituant le contenu et la forme de la oeuvre. L'espace rectangulaire de ce média devient une scène dans laquelle s'aiment des figures poétiques, un point de croisement de l'image et du son, et un monde accueillant les spectateurs qui s'y projettent." (To translate just the second sentence: The rectangular space of this media becomes a stage in which poetic figures love one another, a crossing point for image and sound, and a world welcoming the viewers who project themselves there).
Braying not praying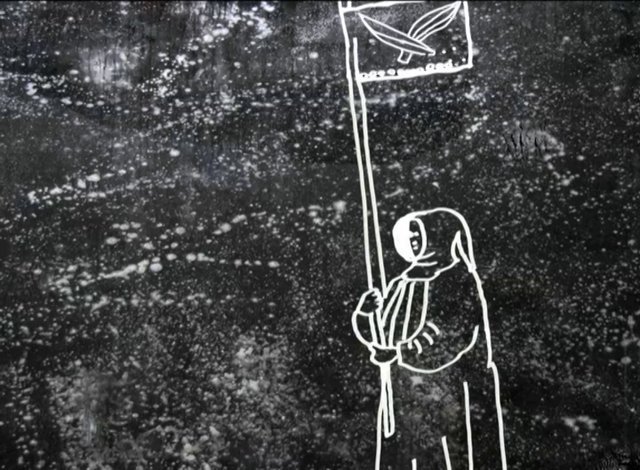 Offering a humorous but sharp take on religious cult, "Hi-han Song – Kyrie Asine", by Hélene Delprat uses the simplest of object-masks, paper ears, to transform an actor into a donkey.  The gently developing braying or singing, electronically treated "ee" sounds, gradually accompanied by vocals, becomes the Hi-Han [Hee-haw] Song: Kyrie Asine (Donkey's Kyrie).  A narrative is told with hand-drawn figures that slide onto the screen from left and right, like little paper-puppet figures from an old fashioned cardboard puppet theatre.  Monks, a demon, a bishop, all appear, ready to adore at the sanctuary of "the miraculous ears".  Hélene Delprat has also created pieces focusing on circus and vaudeville; and in "Outfit Pandshe" a kind of paper puppet bishop is glimpsed in various fragmentary actions, always within a cut-out paper frame.
Machinery
In "What goes around" Dani Acostioaei  also puts religion under an oblique spotlight.  At the heart of the piece is a great, yellow wheel and a ski lift on a gentle slope.  The empty chairs of the lift are at first immobile; then, as the horizontal wheel judders into action, the chairs bob and sway and the narrative has begun.  Four suited men come into view in the distance.  Are they 'bible bashers', or business men on a works outing?  A curious sight and comical in the context.  Then, seated in a chair of the ski lift they are carried past us, through the air; two hold switches of plant stems, the others a bowl of water, while in the distance thunder rumbles.  The men travel along, gravely blessing the forest on this side and that.  In the LOOP Fair text, the author comments: "After the fall of Communism in Romania, one of the power structures to fill up the ideological void was the Orthodox Church.  In much of my practice, I address the resurfacing of the church following the events of 1989", and, talking about the futile, vague ritual of blessing in his film, he says "I try to question and comment on the cultural condition in Romania, where moral ambiguity is no longer the exception as you move between different social spaces."
Sea and port
Machines feature, too, in "The Seaman", huge cranes having replaced stevedores to a large extent in European ports.  Hamburg is Europe's second most important port and one of the biggest in the world. It is also one of the first to have automated the container storage area of its terminals.  Bouchra Khalili says of her short film that it shows "the ghostly choreography of the cranes that carry thousands of containers day and night" while the images of this environment and the moving objects within it are accompanied, in three different sections, by the voice of a Philippino seaman who talks of his life, his responsibilities, and the restrictions he must accept in terms of home and family life.  "My house in the Philippines is only one of the ports where I go".  While the voice is natural, at times quivering with emotion, his words contradict his humanity.  He says that, both for personal reasons and because of the responsibility for valuable merchandise and safety: "We have to kill our heart.  We are seamen, we have to change our hearts. Being too emotional working on a ship, it's not advisable, it's not safe."
In "Sea of Tranquillity", shown at Barcelona's Maritime Museum, a vast object, the cruise ship, carries passengers and crew.  To where?  One is always awaiting disaster which never comes, until the question occurs: is it life in our time, come to this, the disaster itself?  It is, indeed, all a kind of show and after various vignettes combining the aseptic and the real – plastic surgery, the butcher in the kitchen, a massage session, the command bridge -, with intervening shots of a zigzagging interior passageway which suggests both seasickness and a loss of bearings – the work ends with a very beautiful and melancholy slow-motion performance by a troupe of nine dancers, smiling and elegant, dressed in richly-coloured plumed costumes, putting their heart into their dancing, performing to impassive-faced passengers in an auditorium that is more than half empty.  This ingenious and exquisite film by Hans op de Beeck is available, at the time of writing, on Youtube, running for just under 30 minutes.
Body of water
As I said in Part 1 of this article, both water and the human body were featured in many of the works at LOOP Fair 2014.  In an interview on the excellent Louisiana Channel, Bill Viola, after speaking of a key childhood experience with water, says "and I think also video itself, it's like a kind of electronic water, it's flowing; electrons flow in circuits".  He goes on to talk about the flow of electrons in both the camera and the human body (Bill Viola: Cameras are soul keepers).
Water, body, video, and time too, come together powerfully in "Black Bay Sequence" by Elina Brotherus.  With the repetition of an action in the same environment, the body is both the activating subject and observed object.  While the woman's naked body is the object of our gaze, the explicitness and naturalness of her actions  mean she is not 'objectified' in the dehumanising sense of the term.   In an interview, Elina Brotherus says: "I want to know what things look like. I want to know what you look like, what I look like. Many of these works, it is about dealing with the vision and the watching, the observation, and maybe what happens if you cut it away, the possibility of seeing."  In "Black Bay Sequence" a woman enters the field of vision, enters the water, swims a couple of strokes, swims round and back towards the camera/viewer, walks out of the water and then out of the field of vision.  Time and again the action is repeated. The lake is filmed at different times of day so that, on each occasion, the light changes the colours of the sky, water and body, changes the shadows and the perception of the shapes created in the water. This is a fascinating, contemplative work.
See Interview here: http://channel.louisiana.dk/video/elina-brotherus-its-not-me-its-a-photograph
Chrysalis
The theme of discussions at LOOP Panels 2014 was the relationship with the audience: "Engaging the audience".  An example of a measure being taken in this direction is the negotiation between artists or their agents with those who run video screens in public spaces, to use 'empty time' for video art. Video art has now become an option, alongside painting, sculpture or tapestry, for new works commissioned by places of worship or other public spaces, (as with two pieces in Lisbon Cathedral, or "Martyrs" by Bill Viola in St. Paul's Cathedral, London).  SOUVENIRS FROM EARTH, available in France and Germany, is a 24 hour television channel exclusively dedicated to video art works.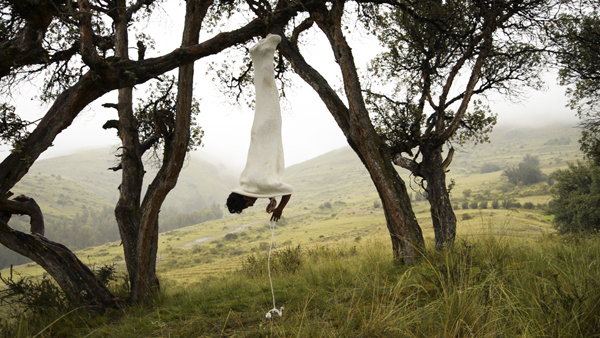 Antonio Paucar from Peru and Berlin showed "Suspendido en la Queñua" at LOOP Fair 2014. Hanging from a tree, upside down in hilly pastureland, he is enveloped in a sort of knitted chrysalis case which, efficiently but without haste, he is undoing; as though, with the egg and larval stages behind him, he is readying himself for life as a flying creature.  It is my impression that, likewise, video art, such a relatively new yet mature art form, is well on its way to integrating into its environment without, let's hope, losing its distinctive nature.
Rebecca Simpson, Barcelona 2014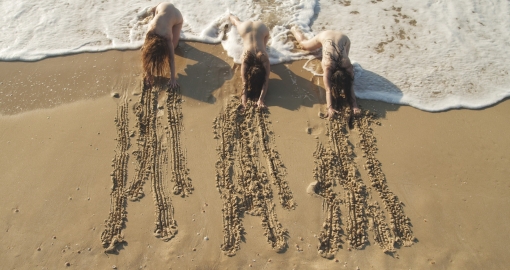 Final note: "Phoenician Sand Dance", Sigalit Landau's exhibition at MACBA, Barcelona, runs until mid February.  "This is the artist's first exhibition to focus on this medium and the way it is used to make sculptures with living bodies and interacting objects. Landau's video sculptures condense a time in which actions appear to have no beginning or end. They are descriptive, not narrative: they narrate the absence of progress and recovery; they describe the need of the other in play, survival and conflict."