Project  Funicular that Lisbon A Tarumba company done year after year, consists of a program of courses and workshops by the best artists of the genre. This year they present, coinciding with the festival FIMFA 2013, a training workshop on Puppet Theatre under the title "The Body versus Object", directed by Agnès Limbos and Nicole Mossoux . Two great artists meet to pool their knowledge in a unique workshop on how to use the body in relation to objects. Here's complete information in Portuguese and English of the event.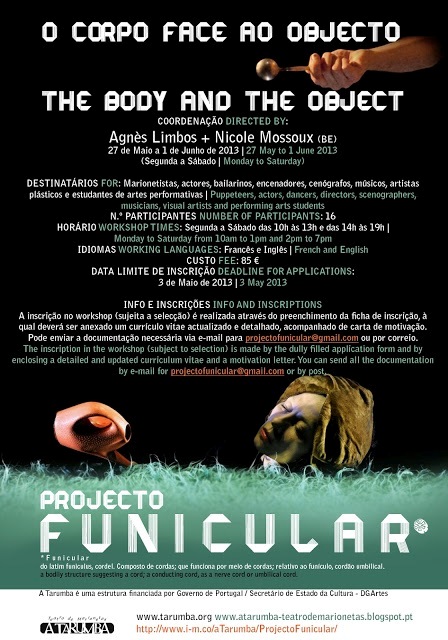 INFO E INSCRIÇÕES – INFO AND INSCRIPTIONS
The workshop "The Body and the Object" aims at crossing two creative worlds: that of the Theatre-Dance of Nicole Mossoux, choreographer and director of the Compagnie Mossoux-Bonté, in which the scenic presence generates a world of suggestion and wherein the spectator is invited to project him or herself, with the world of Agnès Limbos, actress and director of the Compagnie Gare Centrale, in which we are led to the very borders of archetypal fantasy, through the various significations an object may embody beyond its common daily function.
This year the first moment of Projecto Funicular happens during FIMFA Lx13 – Festival Internacional de Marionetas e Formas Animadas – International Festival of Puppetry and Animated Forms, allowing simultaneously a glimpse into the creative work of these two artists, with the presentation of their shows.
A week-long intensive aimed at investigating the distinctive world that may result from the meeting of the body in action with that of the object. An 'exploratory' laboratory in which we shall examine, through the warm-ups, improvisations and personal experimentations, how to prolong movement into and through different materials and how to perceive what the material has to teach us: to decode the signs by seeking out the relationship of force and complicity possible between what is living and what is inanimate. The object will be investigated for its own singular poetic significance: object-as-metaphor, as symbol, as suggestion….
Each day will begin with a warm-up that will bring together all the participants. The physical preparation aims to decondition, to make the body available, with a particular accent on the disassociation of the different parts of the body and the prolongations of gestures into space, toward a partner or an object. Following a series of playful exercises based on a specific form of theatre in which manipulation is made visible, improvisations based on various themes will serve as a platform for research into the states of being that result from the different relationships with the objects. There is also a time dedicated to individual creations, during which each participant can develop their project.
The workshop is intended for performing arts professionals, from all backgrounds, actors, dancers, set designers, puppeteers, visual artists, directors… A heterogeneous group is preferable, as the different experience of each participant can enrich the knowledge of the others.
A inscrição no workshop (sujeita a selecção) é realizada através do preenchimento da ficha de inscrição à qual deverá ser anexado um currículo vitae actualizado e detalhado, acompanhado de carta de motivação. Pode enviar a documentação necessária via e-mail para projectofunicular@gmail.com ou por correio.
The inscription in the workshop (subject to selection) is made by the dully filled application form and by enclosing a detailed and updated curriculum vitae and a motivation letter. You can send all the documentation by e-mail for projectofunicular@gmail.com or by post.
O workshop "O Corpo face ao Objecto" tem por objectivo cruzar os universos de duas importantes criadoras, Nicole Mossoux, que desenvolve um interessante trabalho artístico nas fronteiras da dança e do teatro, característico da sua companhia Mossoux-Bonté, em que a presença cénica do performer cria um mundo de sugestão, no qual o espectador é convidado a projectar-se; e Agnès Limbos, referência incontornável do teatro de objectos, que nos convida aos limites de uma fantasia arquetípica, nas declinações de sentido que o objecto compreende, para além do seu uso quotidiano.
Este ano o primeiro momento do Projecto Funicular realiza-se durante o FIMFA Lx13 – Festival Internacional de Marionetas e Formas Animadas, permitindo simultaneamente um olhar sobre o trabalho criativo das duas artistas, com a apresentação de espectáculos da sua autoria, que revelam abordagens muito diferentes ao teatro de marionetas e formas animadas, mas que têm colaborado entre si, quer no movimento, quer na manipulação.
Uma semana intensiva dedicada a explorar os universos particulares que podem nascer do confronto do corpo e do objecto. Um laboratório "experimental" em que através de exercícios de aquecimento, improvisações e de criações individuais, se irá prolongar o movimento na matéria e aprender a perceber o que o material nos pode sugerir: a decifrar os sinais, a procurar as relações de poder e de cumplicidade que se possam estabelecer entre o que está vivo e o inanimado.
O objecto será abordado pela sua poética singular: objecto-metáfora, simbólico, sugestivo… Cada dia inicia-se com um aquecimento que reúne todos os participantes. A preparação física é focada principalmente sob um descondicionamento, na disponibilidade do corpo. É dada uma atenção especial à dissociação das suas diferentes partes e às noções de prolongamento do gesto no espaço, em relação ao parceiro ou objecto. São realizados exercícios em torno desta forma teatral, em especial, onde a manipulação é feita à vista. Seguidamente são desenvolvidas improvisações, onde a pesquisa de estados se desdobra em relação com os objectos, segundo diferentes temas. É também dedicado um período de tempo a criações individuais, durante o qual cada participante poderá desenvolver o seu projecto.
O workshop destina-se a profissionais do espectáculo, de todos os campos artísticos, actores, bailarinos, cenógrafos, marionetistas, artistas plásticos, encenadores… é desejável um grupo heterogéneo, "uma vez que as experiências de uns podem enriquecer os conhecimentos de outros".
BIO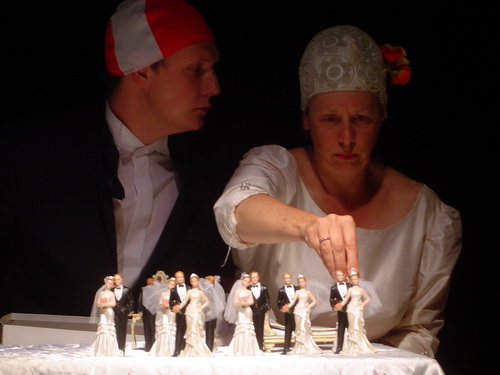 Agnès Limbos was born in Huy, Belgium, in 1952, and spent part of her childhood in Africa. She studied Political Sciences and Philosophy. She preferred the streets of the world to the University. Agnès began a personal journey that led her to the École Internationale de Théâtre Jacques Lecoq in Paris from 1977 to 1979, to Mexico, from 1980 to 1982, and founded the company Gare Centrale in Brussels in 1984. Through the company's performances and collaborations, Agnés Limbos attempts to make quality People's Theatre, full of feelings, beginning with an understanding of the universe's contradictions, fantasy/reality, tragedy/comedy, the power of instinct, and the search for an ever-evolving visual and corporeal language. In short, to create living, entertaining, touching and convivial performances. From 2002 to 2008, in partnership with the Théâtre de la Balsamine, she has organised an international festival in Brussels, in the form of a biennial event, including shows, "short forms", scenes open to creators and exhibitions around the object theatre. Her shows have been seen in numerous theatre festivals and have been presented in over 25 countries. She works as a writer, actor, director, teacher and mentors young creators throughout their artistic process. In 2010, within the Projecto Funicular, Agnès directed in Lisbon the workshop "The Actor and the Object". The last show of Agnès Limbos will be presented on this year edition of FIMFA Lx – Festival Internacional de Marionetas e Formas Animadas
Agnès Limbos – Cie Gare Centrale (BE) Agnès Limbos nasceu em Huy, na Bélgica, em 1952, e passou parte da sua infância em África. Estudou Ciências Políticas e Filosofia. Preferiu as ruas do mundo aos bancos da Universidade. Apaixonada pelo teatro desde a infância, Agnès faz as suas primeiras experiências, montando pequenos espectáculos poéticos de marionetas em bares e festas populares. Após um percurso autodidacta, que inclui o trabalho como marionetista no Thèâtre Toone em Bruxelas (1973), actriz no Théâtre des Jeunes de la Ville de Bruxelles (1976), ingressa na escola de Jacques Lecoq. Depois de várias colaborações com muitas companhias e criadores na Escócia, México e Bélgica, forma a Cie Gare Centrale em 1984, tendo-se especializado numa forma teatral particular: o teatro de objectos. A companhia, para além da criação de espectáculos, organiza formações, ateliês sobre teatro de objectos, participa em laboratórios internacionais e em residências de investigação com outros artistas deste tipo de linguagem teatral. Entre 2002 e 2008 produziu um festival bianual em Bruxelas, em parceria com o Théâtre de la Balsamine, reagrupando espectáculos de pequenas formas lúdicas, de residências artísticas e de exposições, em torno do teatro de objectos. Em vinte e nove anos a companhia criou um importante repertório, apresentado em todo o mundo. Desde a sua criação, os espectáculos têm sido distinguidos em numerosos festivais internacionais, e já foram apresentados em mais de vinte e cinco países. Agnès trabalha como autora, encenadora e professora, acompanhando jovens criadores no seu percurso artístico. Em 2010, no âmbito do Projecto Funicular, dirigiu em Lisboa o workshop "O Actor face ao Objecto". Através de uma linguagem visual em constante evolução, diverte-se a reunir, no universo por ela inventado, fantasia e realidade, tragédia e humor. Poderemos ver o último espectáculo de Agnès Limbos na edição deste ano do FIMFA Lx – Festival Internacional de Marionetas e Formas Animadas.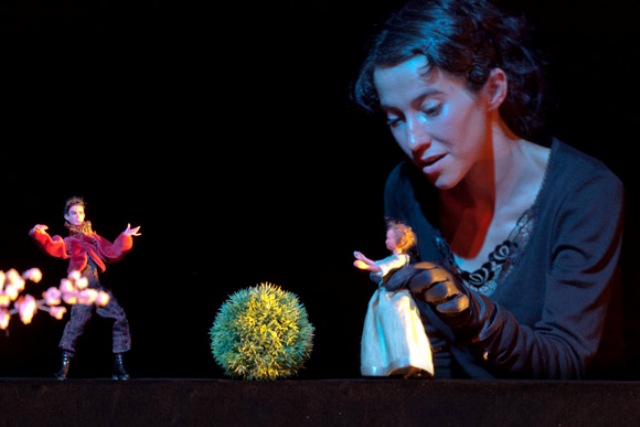 Nicole Mossoux – Cie Mossoux-Bonté (BE) Belgian dancer and choreographer, Nicole Mossoux was born in Bruxelles in 1956. After training in classical dance and studying at Mudra, Maurice Béjart's school, she created several solo shows since 1978. She became interested in psychoanalysis and, after meeting the playwright and director Patrick Bonté in 1985, they create together their first choreography "Juste Ciel" presented at Plan K, directed by Frédéric Flamand. Nicole Mossoux and Patrick Bonté founded the Dance Theatre Company Mossoux-Bonté, in which one or the other design projects alternately. By exploring precise themes that find expression through movement, their work seeks to meld Dance and Theatre into a single language and to create an atmosphere that affects the spectator deeply yet allows him or her to be the sole interpreter of the emotions the performance provokes. They have also directed several films together. Their performances have been presented in approximately forty different countries. Since 1999, in addition to laboratories for theatre professionals, focusing on the relationship of movement to the presence of the object (with Agnès Limbos) or costume (with Colette Huchard), Nicole Mossoux gives dance workshops designed for autistic and psychotic children, in collaboration with psychoanalysts Trees Traversier and Jean Florence. She regularly practices Iyengar Yoga since 2005. She is also an interpreter, especially in solos "Juste Ciel", "Gradiva", "Twin Houses", "Light!" and "Kefar Nahum", that will be presented on this year edition of FIMFA Lx – Festival Internacional de Marionetas e Formas Animadas.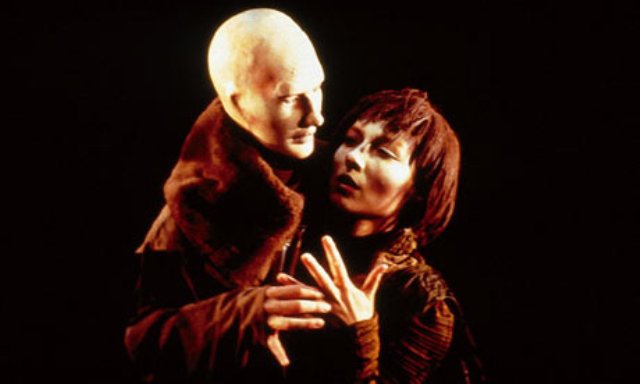 Nicole Mossoux – Cie Mossoux-Bonté (BE) Bailarina e coreógrafa belga, nasceu em Bruxelas em 1956. Depois da sua formação em dança clássica e dos seus estudos na Escola Mudra de Maurice Bejart, cria diversos espectáculos a solo, desde 1978. Interessa-se pela psicanálise e, após o seu encontro com o dramaturgo e encenador Patrick Bonté, em 1985, cria em conjunto a primeira coreografia, de uma longa série de espectáculos partilhados e em alternância, "Juste Ciel", apresentada no espaço Plan K, dirigido por Frédéric Flamand Nicole Mossoux e Patrick Bonté criam a Cie Mossoux-Bonté e iniciam uma pesquisa criativa situada nas fronteiras entre a dança e o teatro, com o objectivo de fundir estes dois campos artísticos numa única linguagem, a partir de temas específicos, que encontram a sua formulação no movimento. O duo tem simultaneamente realizado diversos filmes. Os seus espectáculos, apresentados em mais de quarenta países, procuram criar uma atmosfera que toca o espectador, para que este se sinta emocionalmente implicado, onde a sua individualidade seja guiada pela emoção. Desde 1999, além de laboratórios dirigidos a profissionais do teatro, que abordam a relação do movimento com a presença do objecto (com Agnès Limbos) ou sobre figurinos (com Colette Huchard), dá oficinas de dança destinadas a crianças autistas e psicóticas, em colaboração com os psicanalistas Trees Traversier e Jean Florence. Desde 2005 pratica regularmente Yoga Iyengar. Como intérprete destacam-se ainda os seus solos "Twin Houses", apresentado durante o FIMFA Lx9 – Festival Internacional de Marionetas e Formas Animadas, "Light!" e "Kefar Nahum", que será apresentado na edição deste ano do FIMFA Lx.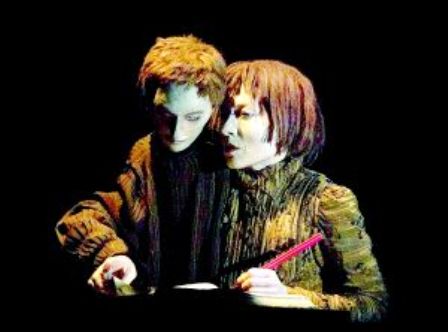 PROJECTO FUNICULAR*
*Funicular Project: a training program of CAMa – Centro de Artes da Marioneta | A Tarumba of international workshops designed for professionals selected on the basis of their curriculum and experience. The inscription is international and due to the selection of the trainers and trainees, combines puppetry with other art forms. The contemporary puppet theatre combines many manipulation techniques or artistic fields. The traditional manipulation techniques are reinvented. The puppeteer must know how to control and manipulate both his body and voice, and, simultaneously, taking advantage of the diversity and aesthetic freedoms from puppetry and animated forms. The first set of workshops was held in 2010, with Stephen Mottram and Agnès Limbos, two very important creators in contemporary puppetry and objects theatre. In November 2011 took place the workshop held by the American Jim Kroupa, one of the most famous and prestigious puppeteer and puppet builder who has worked on several Muppet projects on building mechanisms for puppets. In 2012 took place the workshops "Creating theatre for young audiences: light and movement" directed by Francesca Sorgato and Flop Lefebvre; and "Behind the screen: introduction to shadow and to the shadow theatre" directed by Fabrizio Montecchi, from Teatro Gioco Vita, one of the great masters of shadow theatre.
*Projecto Funicular: um programa de formação do CAMa – Centro de Artes da Marioneta | A Tarumba, iniciado em 2010, composto por workshops intensivos dirigidos a profissionais seleccionados em função do seu currículo e experiência. A inscrição é internacional e, devido à selecção, quer dos formadores, quer dos participantes, reúne diversas disciplinas artísticas, permitindo o encontro da marioneta com as outras artes. O teatro de marionetas contemporâneo cruza diversas técnicas de manipulação ou campos artísticos. As técnicas tradicionais de manipulação são reinventadas. O actor-manipulador tem que saber controlar e manipular o seu corpo, a sua voz e, simultaneamente, apropriar-se da diversidade e liberdades estéticas que o teatro de marionetas e formas animadas permite. O primeiro conjunto de workshops decorreu em 2010, com dois criadores muito importantes no teatro de marionetas e de objectos contemporâneo, Stephen Mottram e Agnès Limbos. Em 2011 decorreu o workshop de Jim Kroupa, antigo colaborador de Jim Henson, reconhecido internacionalmente no campo da construção de marionetas e mecanismos absolutamente exemplares, com um currículo vastíssimo neste campo, quer em espectáculos, séries de televisão ou no cinema. Em 2012 decorreram os worshops "Práticas de Criação para o Público Jovem: Luz e Movimento", dirigido por Francesca Sorgato e Flop Lefebvre; e "Atrás do ecrã: a sombra e o teatro de sombras", dirigido por Fabrizio Montecchi, do Teatro Gioco Vita, um dos grandes mestres do teatro de sombras
Contactos | Contacts
CAMa – Centro de Artes da Marioneta | A Tarumba FIMFA Lx – Festival Internacional de Marionetas e Formas Animadas Tel.+Fax: +351 212 427 621 Convento das Bernardas – R. da Esperança, 152 1200-660 Lisboa Portugal
projectofunicular@gmail.com | http://www.i-m.co/aTarumba/ProjectoFunicular/
Info@tarumba.org | www.tarumba.org | www.fimfalx.blogspot.com | www.atarumba-teatrodemarionetas.blogspot.com http://pt-pt.facebook.com/atarumba.marionetas